NETMARBLE OFFICIALLY RATED #8 IN APP ANNIE'S 2021 GLOBAL MOBILE GAME PUBLISHER RANKINGS
Leading Mobile Games Company Featured in Annual Top 10 List Every Year since 2015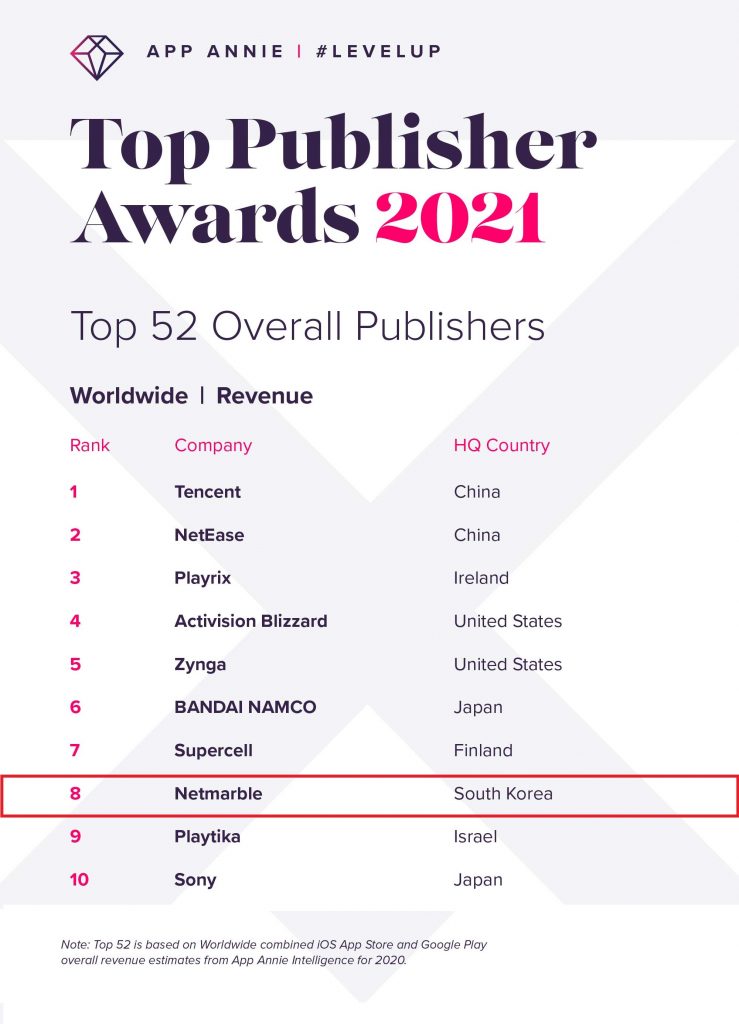 Netmarble, a top developer and publisher of high-quality mobile gaming experiences, announced today it officially ranked 8th in App Annie's 'Top 52 Publishers in 2021' category. Candidates are selected based on the sales of the global mobile game market in 2020.
According to data released by the mobile app market analysis site AppAnnie, Netmarble entered the Top 10 listing in the combined game division of App Store and Google Play last year. Companies like Tencent, Netease, and Activision Blizzard were also featured on this year's list.
Netmarble, which placed first in App Annie's Top 52 Publishers in 2015, has consistently been featured in App Annie's Top 10 listing for Publishers in the global mobile game market for six years in a row, including today's 2020 sales ranking announcement.

Netmarble made great strides last year by releasing a variety of games to the global market. In particular, The Seven Deadly Sins: Grand Cross, which launched last year in March, achieved remarkable success in 2020 as it gained popularity in major markets worldwide. The game ranked 10th in North America's iOS Sales and 1st in France's top two markets.
Netmarble is preparing to release various major titles in the global market this year as well. The Open World RPG Blade & Soul Revolution is scheduled to be released in the first quarter of 2021. Netmarble is also actively developing other major titles for players to experience and enjoy, including Ni no Kuni: Cross Worlds, Seven Knights Revolution and MARVEL Future Revolution.
"Netmarble maintained its commitment to presenting unique gaming experiences to global players through our new franchises in 2020, including The Seven Deadly Sins: Grand Cross, Seven Knights2, MaguMagu 2020, A3: Still Alive, and MARVEL Realm of Champions," said Seungwon Lee, co-CEO of Netmarble. "We are confident players will find 2021's line-up just as fun and engaging, and we can't wait to share news on these titles soon."