A3: STILL ALIVE OPENS THE FLOODGATES WITH ALL-NEW FLOODED METIUM BATTLE ROYALE MODE WITH LATEST IN-GAME UPDATE
Special Event Starts on Jan. 21 as Netmarble's Latest Original Game Sees over Five Million Global Downloads along with Somius Night Festival Event Begins on Jan. 28
The latest update for A3: STILL ALIVE, Netmarble's Dark Fantasy Open World MMORPG on the App Store® and Google Play, is now live and introduces an all-new Battle Royale mode, enhancements to the Soul Linkers system, and in-game events that will run from today to February 4 for players to participate in. One of these events is also celebrating the game's recent achievement of over five million global downloads less than two months after its November 10 worldwide launch.
Starting today, an all-new Battle Royale mode– Flooded Metium – is now available for competitive warriors eager to conquer an unexplored map. Player Soul Linkers have also been enhanced, as the original 7-Star Soul Linkers can now be upgraded to the 8-Star level. In addition, the Somius Wake Night Festival will launch on Jan. 28 before A3: STILL ALIVE's next major update so players can prepare and collect additional rewards and Bonus Time in advance.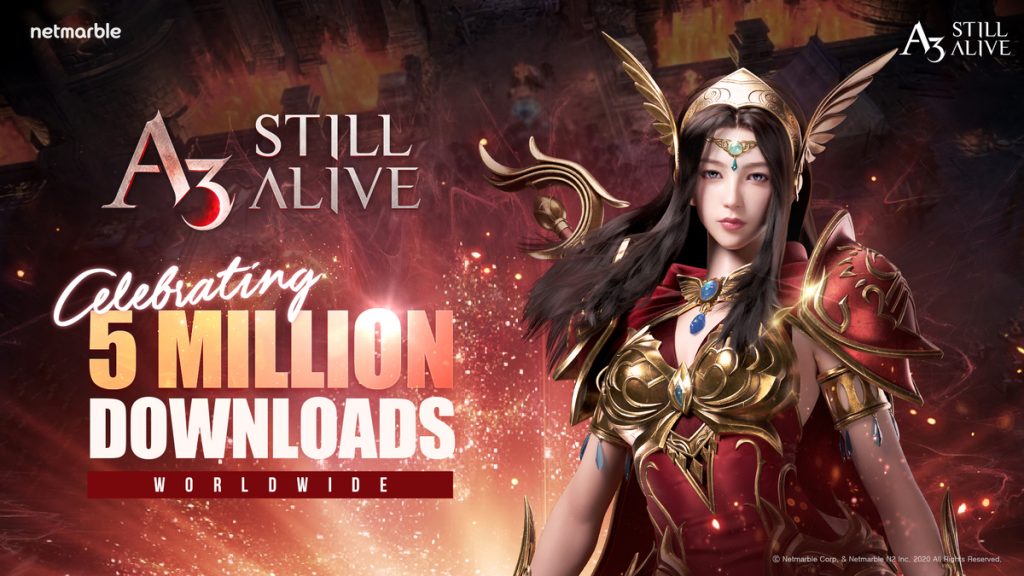 This month also brings other in-game activities to A3: STILL ALIVE, including:

 

January Content Update Events

Battle Pass Season 2: 7 Day Check in Event (1/14~1/28) – By checking in for seven days, players can receive a max reward of a Rare 5-Star Soulstar and a Heroic Accesory Chest
Veteran 7 Day Guide Mission (1/14~2/4) – By beating Veteran Missions, players can exchange earned medals for rewards, such as a Blue Diamond, a 4~6-Star Exp Soulstar, a 5-Star Upgrade Soulstar, and a Heroic Soul Linker
8★ Release Celebration Exchange Event (1/14~2/4) – By collecting tickets earned from playing A3: STILL ALIVE, players can earn rewards, including up to five 5-Star Heroic Soul Linkers
8★ Release Celebration Event: Upgraded Reward for Today's Activity (1/14~2/4) – Players will earn a free 8★ Release Celebration Chest in Today's Activity
Refuge of the Dead B2 – Winner Takes it All (1/14~2/4) – Players who join and contribute the most, or achieve the last hit, will receive several in-game rewards
Open! Guild Exchange Market (1/14~3/4) – By earning tickets from participating in guild activities, users can exchange for one monthly reward every week.

Five Million Downloads Events

7 Day Check-In (1/21-2/4) – Log in for seven days and receive maximum rewards, including a 5 Million Downloads Congratulations Chest (500x Shining Soulstar included), BOX Event Tickets, and a 5-Star Hero Soulstar
BOX Event (1/21-2/4) – Players can get BOX tickets through daily events, check-ins, or purchase them with in-game gold. They can use the 5 Million Downloads Congratulations Chest for a chance to receive a Heroic Accessory Selection Chest
Gold Consumption Event (1/21-2/4) – By spending in-game gold, players can earn rewards like items, in-game gold, 8-Star Update Celebration Exchange Event Tickets' and more

Somius Wake Night Festival Events

Prepare for the Adventure (1/28~2/4) – Bonus Time events are now active on certain maps and offer 30% increase drop rates for Equipment
Complete the Codex (1/29~2/3) – Every day, players will receive a special Monster Card Box by accessing A3: STILL ALIVE's push notifications.

 

Set in an apocalyptic fantasy world of swords and sorcery, A3: STILL ALIVE is a cross-genre mobile experience that pairs the enormous and living worlds of Open-World RPGs with the extreme combat of Battle Royale. Players must be vigilant in an always-open Player vs. Player (PvP) environment as they fight against enemies with intense hack & slash combat and prove their mettle in a variety of PvP and Player vs. Environment (PvE) modes. A3: STILL ALIVE is beautifully rendered with splendid console-quality 3D graphics that are brought to life thanks to the outstanding optimization of the Unity Engine.

 

A3: STILL ALIVE is now available as a free digital download (with in-app purchases) on Apple's App Store and Google Play, in 172 countries around the world.

 

For more information, please visit the official website and forum, and follow A3: STILL ALIVE on Facebook and YouTube.