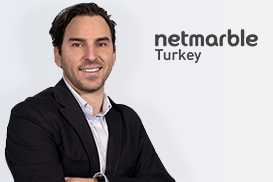 Born in 1979 in Istanbul, Aras Şenyüz completed his middle and high school education at Private Italian High School and graduated with a Bachelor's Degree in Business Administration from Koç University.
Mr. Şenyüz started his career at L'Oreal Turkey in 2001, and then was employed under Unilever for various marketing positions in charge of brands such as Dove, Elidor, Axe, Rexona, and Elseve.
Mr. Şenyüz was promoted to the position of Marketing Director of Vodefone in 2012 and thus took a step towards his long-time dream-field, the technology sector. Following his employment at Vodefone, in 2013, he started working as the Director of Mobile and Media Division of Netmarble EMEA, one of the biggest mobile game companies in the world. In 2016, he was appointed as the Director of Marketing and Mobile Division in charge of Middle-East and Europe. A year later, in 2017, appointed as the Chief Operations Officer of Netmarble EMEA, Mr. Şenyüz, as of February 2019, carries out his duties as the Chief Executive Officer of Netmarble EMEA Regional Branch.
Aras Şenyüz, with his great enthusiasm and talent towards card games and digital games, has represented Turkey and stood on podium in many international contests over the years.